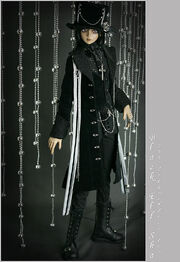 Sha is a male doll from Dream of Doll. Sha was a part of the original Dream of Teen line, but the head was redone to match the new Dream of Idol line and was released as a limited edition.
Versions
Edit
The LE Black Sha was released in 2008.
Measurements
Edit
Height; 70cm (28inch)
Girth of Head ;22.5cm (about 9inch)
Girth of Neck; 10.3cm (about 4.2inch)
Girth of Chest : 27.5cm (about 11inch)
Width of Shoulder :15.5cm (about 6.2 inch)
Girth of Waist : 20.5cm (about8.2inch)
The length from shoulder to wrist : 22.5cm (about 8.8 inch)
The length from neck point to waist (back length): 14cm (about 5.5inch)
Girth of Heap : 27cm (about 10.8 inch)
The length from heap to knee : 21cm (about 8.4 inch)
The length from knee to ankle :20cm ( about 8 inch)
The length of foot : 8.2cm (about 3.4 inch)
Width of Foot (longest) : 4cm (about2 inch)
External Links
Edit
Ad blocker interference detected!
Wikia is a free-to-use site that makes money from advertising. We have a modified experience for viewers using ad blockers

Wikia is not accessible if you've made further modifications. Remove the custom ad blocker rule(s) and the page will load as expected.