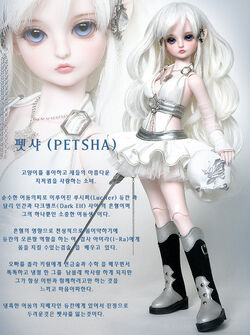 Petsha is a female doll from Dream of Doll. She is part of their Dream of Child line, which is mini sized. Petsha is an elf, and is only available with the new mature body (with a large bust).


The girl who loves cats and the beautiful singing of birds. Not like Ducan, whom is made of dark blood, she is half human and half dark elf, and is Ducan's one and only younger sister. She is weak by nature because of her mixed blood, so Ducan's right hand, swordswoman Ira has been teaching her to protect herself. She asked her brother to take alchemy and mathematics lessons from Kiril, and she fell in love with his intellect and dispassionateness. But she realizes that Kiril just wants to be with Ivan all the time, and her heart is broken. The scariest thing to Ducan, who is the master of the cold-blooded dark world, is losing Petsha. She can read humans' and animals' minds. After you have a sweet nap with her, she makes everything go easier and helps you have a new, mystic beginning. She is quite delicately built but always smiles to others.


Versions
Edit
The regular version was released in 200?.
Measurements
Edit
Height : 41cm
Head : 6~7 inch
Shoulder width of a garment : 6.5cm
Circumference of chest ( basis of bust point ) : 18.5cm
Circunference of waist (the thinese part) : 13cm
Length of "from neck point thru bust point till waist line" (front) : 7.5cm
Lenth of "from neck point to bust point" : 4cm
Circumference of hips : 20 cm
Lenth of sleeve (till wrist ) : 13.5 cm
Circumference of upper arm ( the thickest part ) : 5.5 cm
Arm Hole : 7 cm
Circumference of wrist : 4.5cm
Length above lower part : 7 cm
Length of pants : 19.5 cm
Length of skirt ( from waist line to knee ) 14 cm
Length from neck to the tip of toe ) 33 cm
Foot size : 5.5 cm
Circumference of calf : 7.5cm
Circumference of thigh : 10.5cm
Circumference of neck : 6.8cm
External Links
Edit