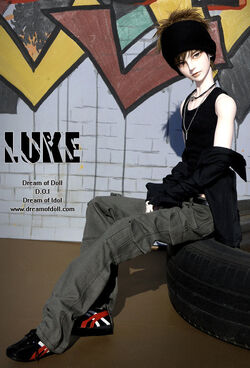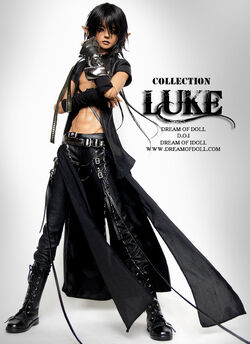 Luke is a male doll from Dream of Doll. He is part of their Dream of Idol line, which is full-sized. There are two regular versions available, each with a different faceup and outfit.
Versions
Edit
The fullset and regular versions were released in 2008.
The limited black elf version was released in 2009 and was only available during the Hong Kong Dollism.
Measurements
Edit
Height; 70cm (28inch)
Girth of Head ;22.5cm (about 9inch)
Girth of Neck; 10.3cm (about 4.2inch)
Girth of Chest : 27.5cm (about 11inch)
Width of Shoulder :15.5cm (about 6.2 inch)
Girth of Waist : 20.5cm (about8.2inch)
The length from shoulder to wrist : 22.5cm (about 8.8 inch)
The length from neck point to waist (back length): 14cm (about 5.5inch)
Girth of Heap : 27cm (about 10.8 inch)
The length from heap to knee : 21cm (about 8.4 inch)
The length from knee to ankle :20cm ( about 8 inch)
The length of foot : 8.2cm (about 3.4 inch)
Width of Foot (longest) : 4cm (about2 inch)
External Links
Edit