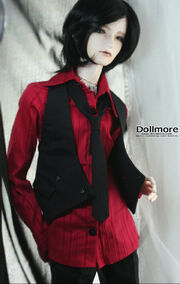 Huey Lewis is a male BJD from Dollmore's Model line. He is full-sized.

Let me introduce the Fourth Dollmore's Male Model Line Huey Lewis who can create the perfect Model poses. He has an optimistic philosophy of life and He sings great in a deep and gentle voice~ besides, He has a nice slender body lines and Model poses as well.^^ His twofold joint structures of elbows, divided forearm and supple movements of waist show you the Model perfect poses and standing without any stand as you make.^^
Versions
Edit
The regular version was released in 2007.

Measurements
Edit
Tall : 71cm
Circumference of Head : 20.5cm
Circumference of neck : 11cm
Circumference of chest : A : 26.8cm / B :26cm
Width of shoulders : 16cm
Circumference of waist : 19.5cm
Circumference of hips : 26cm
Lenth of "from hips to ankle" : 41cm
Lenth of "from knee to ankle" : 21cm
Wig - 8-9
Eyes - 16 mm
Shoes - 9 cm
External Links
Edit
Ad blocker interference detected!
Wikia is a free-to-use site that makes money from advertising. We have a modified experience for viewers using ad blockers

Wikia is not accessible if you've made further modifications. Remove the custom ad blocker rule(s) and the page will load as expected.