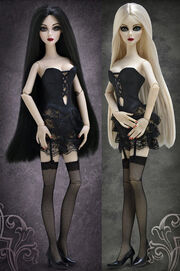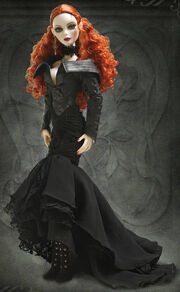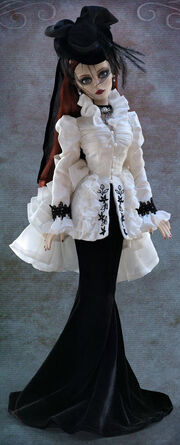 Evangeline is a female doll from Wilde Imagination. She was created by designer Joe Petrollese and sculpted by Robert Tonner. She was inspired by Tim Burton's The Corpse Bride, The Addams Family, and even Barbra Streisand, and even has her own MySpace page. Evangeline has a line of clothing and accessories designed just for her.
Versions
Edit
The original resin version (LE of 750) was released in 2007.
Resin Gothic Vigil (LE of 50) was released at Wizard World Philly in 2008.
Resin Cemetery Wedding (LE of 125) was released in 2008.
Vinyl Eternal Evangeline (Rooted black hair) was released in 2009.
Vinyl Eternal Evangeline Too (Platinum wigged doll) was released in 2009.
Vinyl Moonlit Shadows(LE of 350) was released in 2009.
Grave Concerns (LE of 350) was released in fall 2009.
Vinyl An Unfortunate Life (LE of 100) was released at the Modern Doll Convention in 2009.
Vinyl Waiting for Mortimer (LE of 350) was released in 2010.
Vinyl Visiting Frogmore (LE of 350) was released in 2010.

Measurements
Edit
Height: 18 in (Vinyl 17 in)
External Links
Edit
Ad blocker interference detected!
Wikia is a free-to-use site that makes money from advertising. We have a modified experience for viewers using ad blockers

Wikia is not accessible if you've made further modifications. Remove the custom ad blocker rule(s) and the page will load as expected.