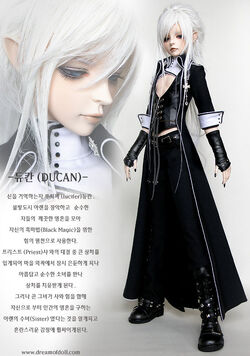 Ducan
is a male doll from
Dream of Doll
. He is a part of their Dream of Teen line, which is full-sized.
Lucifer DUCAN, who tempts God. He holds power over Aren – the city of water colors, and uses innocent souls for the source of his Black Magic. He was wounded severely during a fight with the priest SHA, and stayed near the outer wall of the city. There he met a beautiful and innocent girl who cured him, and discovered that she is the sister of Aren, and she helps SHA save souls from him. 
Versions
Edit
The homme fullset and regular versions were released in 2006.
The elf limited edition was released in 2006.
The black elf limited edition was released in 2008 and was only available during the Hong Kong Dollism.
Measurements
Edit
Girth of Head : 21.6 cm (around 8.5 inch)
Girth of Neck : 9.5cm
Girth of Chest : 24cm
Width of Shoulder :13.5cm
Girth of Waist : 20cm
The length from shoulder to wrist : 19cm
The length from neck point to waist (back length): 13cm
Girth of Heap : 26cm
The length from heap to knee : 17.5cm
The length from knee to ankle : 19cm
The length of foot : 7.5cm
Width of Foot (longest) : 3.4cm
- New Body -

External Links
Edit
Ad blocker interference detected!
Wikia is a free-to-use site that makes money from advertising. We have a modified experience for viewers using ad blockers

Wikia is not accessible if you've made further modifications. Remove the custom ad blocker rule(s) and the page will load as expected.