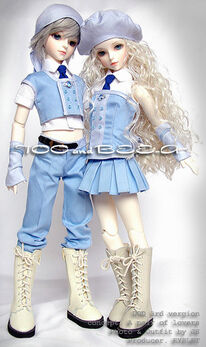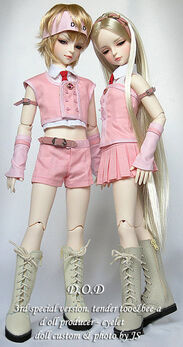 Bee-A is a female doll from Dream of Doll. She is part of their Dream of Child line, which is mini sized. Bee-A is only sold with her boyfriend, Too .


Versions
Edit
The fullset and regular versions were released in 200?.
The tender fullset and regular versions was released in 2004.
Measurements
Edit
Old Body
Height ; 41cm
Girth of Head ; 18cm
Width of Shoulder ; 6.2cm
Girth of Heap ; 18cm
Girth of Chest ; 19cm
The length of foot ; 5.5cm
The length of leg ; 21cm
The length of sleeves ; 12.7cm

New Body
Height : 41cm
Head : 6~7 inch
Shoulder width of a garment : 6.5cm
Circumference of chest ( basis of bust point ) : 18.5cm
Circunference of waist (the thinese part) : 13cm
Length of "from neck point thru bust point till waist line" (front) : 7.5cm
Lenth of "from neck point to bust point" : 4cm
Circumference of hips : 20 cm
Lenth of sleeve (till wrist ) : 13.5 cm
Circumference of upper arm ( the thickest part ) : 5.5 cm
Arm Hole : 7 cm
Circumference of wrist : 4.5cm
Length above lower part : 7 cm
Length of pants : 19.5 cm
Length of skirt ( from waist line to knee ) 14 cm
Length from neck to the tip of toe ) 33 cm
Foot size : 5.5 cm
Circumference of calf : 7.5cm
Circumference of thigh : 10.5cm
Circumference of neck : 6.8cm
External Links
Edit
Ad blocker interference detected!
Wikia is a free-to-use site that makes money from advertising. We have a modified experience for viewers using ad blockers

Wikia is not accessible if you've made further modifications. Remove the custom ad blocker rule(s) and the page will load as expected.